2020-08-25

Round hollow bar – 30 years' manufacturing experience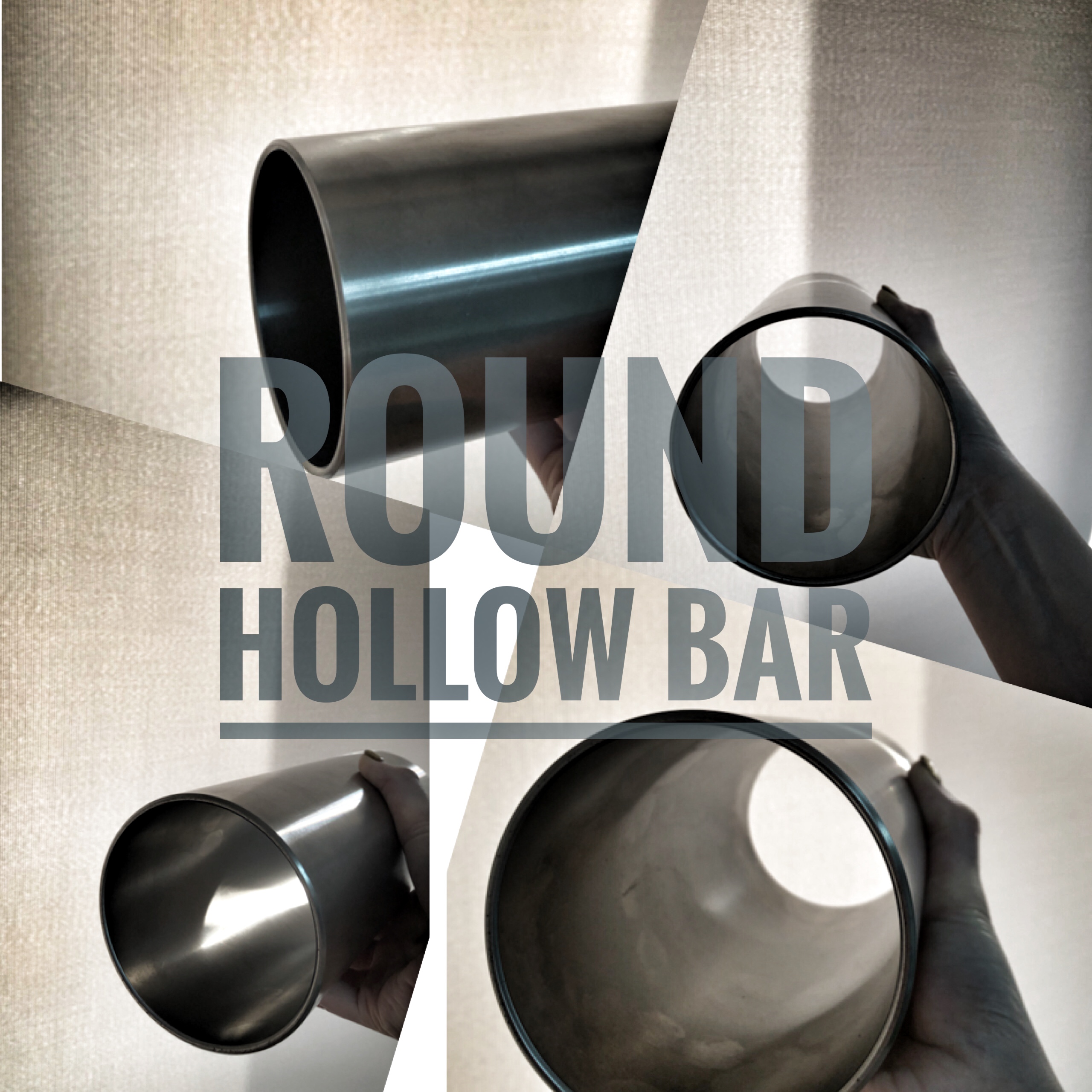 Think of seamless round hollow bar; think of LAWAI simultaneously
For many people, centrifugal casting is an unfamiliar technology. But, mentioning the round hollow bar, everyone has the concept in their minds.
There are two ways to manufacture round hollow bar. The first one is we drill the center of the solid bar to form the round hollow bar. The other one is we manufacture the round hollow bar by centrifugal casting technique. The liquid metal is poured into the mold and the mold is rotated by the high speed. The centrifugal force pushes the liquid metal to the inside mold. After the solidification, the round hollow bar with the fine and dense structure is formed. LAWAI just produces the round hollow bar by centrifugal casting technique.
When customers need the round hollow bar with the larger inside diameter, it will increase the costs of the time and machining once purchasing the round solid bar to drill the center of it. It's also not environmental-friendly if the unwanted chips are not recycled in a proper way.
Therefore, using centrifugal casting technique to produce the round hollow bar is a good way to avoid the increasing costs stated above.
The round hollow bar is also one-piece constructed, so it is seamless. The strength of mechanical properties is high compared with the seam tube. And the length of the round hollow bar could be cut to the right size customer requires.
In addition to stainless steel round hollow bar, we also supply special alloy round hollow bar
LAWAI does not only produce common stainless steel round hollow bar including 304, 316, 316L…etc, but also manufacture higher grade materials.
For the harsh environment, customers would select higher grade stainless steel such as duplex stainless steel for resisting corrosion. If the working environment is at the high temperature for a long period of time, customers will be able to choose heat-resistant round hollow bar. If considering the creep problem, superalloy round hollow bar will be the one you could use.
We manufacture various round hollow bars by centrifugal casting, yet the main materials we focus are stainless steel, heat-resistant alloys, superalloys and Ni-resist alloys.
If you need medium to larger size round hollow bar, centrifugal casting is satisfied definitely. However, the diameter of round hollow bar is smaller than 50mm, we could confront the difficulties.
The size of round hollow bar - customization
Diameter: larger than 50mm
Length:Smaller than 3600mm
300 series stainless steel round hollow bar(manufactured by centrifugal casting technique)
| | | |
| --- | --- | --- |
| AISI spec. | ACI spec. | EN/DIN spec. |
| 304 round hollow bar | CF8 round hollow bar | 1.4308 GX6CrNi189 round hollow bar |
| 304L round hollow bar | CF3 round hollow bar | 1.4306 X2CrNi19-11 round hollow bar |
| 316 round hollow bar | CF8M round hollow bar | 1.4408 GX6CrNiMo18-10 round hollow bar |
| 316L round hollow bar | CF3M round hollow bar | 1.4404/1.4409 X2CrNiMo17-12-2 round hollow bar |
| 310S round hollow bar | CK20 round hollow bar | |
| 347 round hollow bar | CF8C round hollow bar | 1.4552, GX5CrNiNb18-9 round hollow bar |
| 317 round hollow bar | CG8M round hollow bar | 1.4408 GX6CrNiMo18-10 round hollow bar |
| 317L round hollow bar | CG3M round hollow bar | |
| Nitronic 60 round hollow bar | CF10SMNN round hollow bar | |
| Nitronic 50 round hollow bar | CG6MMN round hollow bar | |
| 20Cb3 round hollow bar | CN7M round hollow bar | |
| 309 round hollow bar | CH20 round hollow bar | |
| CE20N round hollow bar | CD20N round hollow bar | |
| | Nitronic 33 round hollow bar | |
| | Nitronic 40 round hollow bar | |
| | CN7MS round hollow bar | |
| AL6XN round hollow bar | CN3MN round hollow bar | |
| 254SMO round hollow bar, F44 round hollow bar | CK3MCuN round hollow bar | |
400 series stainless steel round hollow bar (manufactured by centrifugal casting technique)
| | | |
| --- | --- | --- |
| AISI spec. | ACI spec. | EN/DIN spec. |
| 410 round hollow bar | CA15 round hollow bar | 1.4008 GX8CrNi13 round hollow bar |
| 416 round hollow bar | 416 round hollow bar | |
| 420 round hollow bar | CA40 round hollow bar | 1.4027 GX20Cr14 round hollow bar |
| 420F round hollow bar | CA40F round hollow bar | |
| 431 round hollow bar | 431 round hollow bar | 1.4059 GX22CrNi17 round hollow bar |
| 13-4 round hollow bar, F6NM round hollow bar | CA6NM round hollow bar | 1.4313 GX5CrNi134 round hollow bar |
| | 440A round hollow bar | |
| | 440B round hollow bar | |
Duplex stainless steel round hollow bar(manufactured by centrifugal casting technique)
| | | |
| --- | --- | --- |
| Forging spec. | ACI spec. | EN/DIN spec. |
| | CD4MCu round hollow bar | |
| 2205 round hollow bar, F51 round hollow bar | CD3MN round hollow bar | 1.4470 GX2CrNiMoN22-5 round hollow bar |
| Ferralium255 round hollow bar | CD7MCuN round hollow bar | |
| | CD4MCuN round hollow bar | |
| | DPX-1B MOD round hollow bar | |
| 2507 round hollow bar, F53 round hollow bar | CE3MN round hollow bar | 1.4469 GX2CrNiMoN26-7 round hollow bar |
| | CE8MN round hollow bar | |
| | CD3MWCuN round hollow bar | |
Precipitation hardening round hollow bar(manufactured by centrifugal casting technique)
| | | |
| --- | --- | --- |
| Forging spec. | ACI spec. | EN/DIN spec. |
| 17-4PH round hollow bar | CB7Cu-1 round hollow bar | 1.4540 GX4CrNiCuNb16-4 round hollow bar |
| 15-5PH round hollow bar | CB7Cu-2 round hollow bar | |
Heat-resistant round hollow bar(manufactured by centrifugal casting technique)
| | |
| --- | --- |
| LAWAI ALLOY | JIS spec. |
| HD round hollow bar | SCH11 round hollow bar |
| HE round hollow bar | SCH17 round hollow bar |
| HF round hollow bar | SCH12 round hollow bar |
| HH-2 round hollow bar | SCH13 round hollow bar |
| HI round hollow bar | SCH18 round hollow bar |
| HK round hollow bar | SCH21 round hollow bar |
| HK-40 round hollow bar | SCH22 round hollow bar |
| HL round hollow bar | SCH23 round hollow bar |
| HN round hollow bar | |
| HP round hollow bar | SCH24 round hollow bar |
| HT round hollow bar | SCH15 round hollow bar |
| HU round hollow bar | SCH20 round hollow bar |
| HW round hollow bar | |
| HX round hollow bar | |
Nickel-based hollow bar / Superalloy round hollow bar (manufactured by centrifugal casting technique)
| | |
| --- | --- |
| Forging spec. | ACI spec. |
| 50Cr-50Ni+Cb round hollow bar | 50Cr-50Ni+Cb round hollow bar |
| INCONEL 625 round hollow bar | CW6MC round hollow bar |
| INCONEL 600 round hollow bar | CY40 round hollow bar |
| Hastelloy B2 round hollow bar | N12MV round hollow bar |
| Hastelloy C276 round hollow bar | CW-12MW round hollow bar |
| Hastelloy B2 round hollow bar | N7M round hollow bar |
| Hastelloy C4 round hollow bar | CW2M round hollow bar |
| Hastelloy C22 round hollow bar | CX2MW round hollow bar |
| Hastelloy X round hollow bar | Ni-X round hollow bar |
| Nickel 200 round hollow bar | CZ100 round hollow bar |
Ni-resist round hollow bar (manufactured by centrifugal casting technique)
| | |
| --- | --- |
| LAWAI ALLOY | ACI spec. |
| Ni-resist 1 round hollow bar | Type 1 round hollow bar |
LAWAI INDUSTRIAL CORPORATION
No.1283-1, Ren-ai Road, Chunan Township, Miaoli County, Taiwan
+886-3-6581116