2022-05-09

The best centrifugal casting source in Taiwan | LAWAI INDUSTRIAL CORPORATION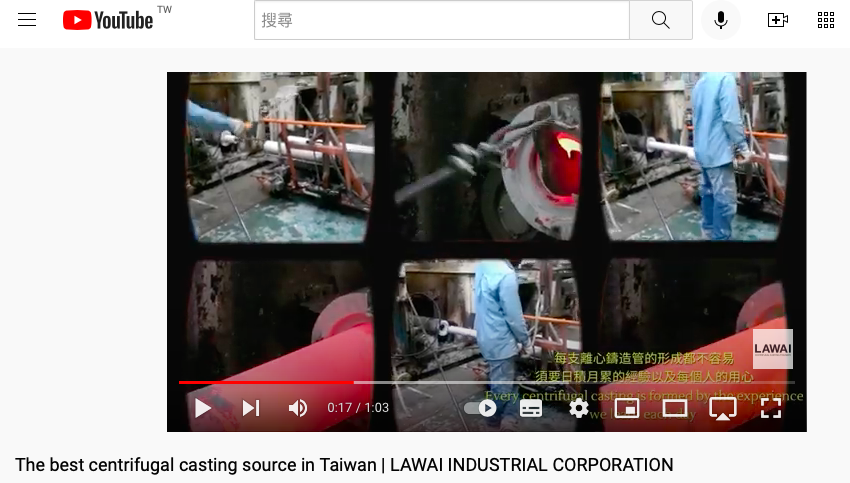 The video link is as follows.
The title of this video is "The best centrifugal casting source in Taiwan"
The purpose of the video is to make customers understand the scale of our centrifugal casting foundry and a part of our centrifugal casting products we manufactured in the first season of 2022.
The correct name of our tubes is centrifugally cast tubes
Several customers called the tubes produced by us hollow tubes or seamless steel tubes, however the correct name of the tubes should be called "centrifugally cast tubes".
Hollow tubes could be formed by drilling the solid bars and the seamless steel tubes are able to be produced by forging. Thus, it is always stated " centrifugally cast tubes" on our quotation instead of other names.
Each centrifugal casting is formed by the experience & our efforts
One of the advantages of centrifugal casting is a lot of materials are able to be cast. And we focus on producing stainless steel, heat-resistant steel, few Nickel-based alloys and cast iron (Ni-resist type 1 and D-2M)
In the video, we mentioned that developing each material successfully is not easy. The characteristics of metal materials are able to be affected by the local environment. Therefore, each centrifugal casting foundry has its know-how for every material. A good centrifugal casting product is made by the experience we learn day by day.
Not each dimension is able to be cast by centrifugal casting
The centrifugally cast tubes with smaller diameters were inquired often in the recent months, but they are not suitable for being produced by us. We produce the tubes with the outer diameters larger than 50 mm mainly. If customers need the tube with outer diameter larger than 50 mm and with small inner diameter ( Ex: 20 mm), we also will not be able to do the production for them.
Heat-resistant alloys were designed for centrifugal casting
The heat-resistant materials we produce mainly including HK, HF, HU, HH, HP, HP-MOD, 800H. Recently, customers also provided us the names of heat-resistant alloys from other well-known centrifugal casting manufacturers to see whether we could produce the heat-resistant tubes based on these information. If customers could send the complete data sheets of those alloys to us, we will assist each one to manufacture the tubes.
LAWAI's ALFIN rings are for high grade aluminum pistons
Our ALFIN rings were supplied to the piston manufacturers in Taiwan mainly. Those rings are connected with the high grade aluminum pistons. The material of those ALFIN ring is Ni-resist type 1. Although this material is cast iron, the price is higher because of the high content of nickel. There are lots of international customers interested in our ALFIN rings and they intent to use our ALFIN rings for their high class projects in the near future.
Need further discussion for centrifugal castings? Please contact us directly!
LAWAI INDUSTRIAL CORPORATION was established in 1989 and has manufactured centrifugal castings for over 30 years. Most centrifugally cast tubes and rings with stainless steel 300 series were supplied for our local customers and heat-resistant tubes ( Ex: Radiant tubes ) and special alloy tubes & rings were exported.
No matter you need centrifugal castings with common stainless steel or special steel, we will be glad to have a deep discussion with you!
LAWAI INDUSTRIAL CORPORATION
No.1283-1, Ren-ai Road, Chunan Township, Maioli County, Taiwan
+886-3-6581116